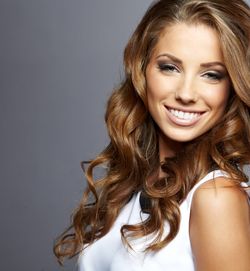 At Brown & Baran Family Dentistry, Dr. Paul E. Brown and Dr. Christopher S. Baran can create beautiful smiles using traditional or minimal-prep veneers. Porcelain veneers are thin, ceramic shells that fit over the front of your teeth, instantly concealing any imperfections. Contact us today to learn more about porcelain veneers and schedule a consultation at our Seaford or Wilmington offices.
What Can Porcelain Veneers Conceal?
Porcelain veneers can help patients whose teeth are:
Gapped: Veneers can be custom made to close the spaces between your teeth.
Misshapen: Veneers can elongate your teeth to create a symmetrical, balanced smile.
Discolored or stained: Veneers can be especially effective if your teeth do not respond well to teeth whitening or you have intrinsic stains.
Fractured or chipped: Since the porcelain shells cover the teeth, they can easily mask any fractures or chips.
Slightly crooked: Veneers can cover mild to moderate misalignment, making the teeth appear straight and uniform.
At your first appointment, Dr. Brown or Dr. Baran will use our intraoral camera to get a detailed look at the inside of your mouth. We can also display these images on a television screen so you can better understand your treatment options.
Who Is a Candidate?
You may be a good candidate for porcelain veneers if you:
Have no cavities
Have a properly aligned bite
Do not have periodontal (gum) disease, such as gingivitis
Do not suffer from bruxism (teeth grinding), since this could damage your veneers (although you may be eligible for veneers if you are willing to wear a night guard to protect your teeth)
Have enough tooth enamel to hold the veneers in place
Are willing to properly maintain and care for your teeth after veneer placement
Types of Veneers
We offer traditional and minimal-prep veneers. If you choose traditional porcelain veneers, Dr. Brown or Dr. Baran will assess your teeth and shape them to accommodate the veneers. We typically perform this part of procedure under local anesthesia to keep you comfortable. Next, we will take an impression of your teeth using our intraoral camera. This 3-D image will serve as the model the lab will use to craft your veneers. Once the custom veneers are fabricated, a process that takes about two weeks, we will attach the veneers to your teeth with strong bonding cement.

For patients who want to preserve their enamel or have sensitive teeth, we also offer LUMINEERS®. These veneers are thinner, approximately 0.2 millimeters thick. Since they are so thin, we can remove a smaller amount of enamel and, for some patients, no shaping is required. However, patients with dark tooth stains or more significant cosmetic imperfections may not be good candidates for LUMINEERS®.

Drs. Brown and Baran will discuss the benefits and disadvantages of traditional porcelain veneers and LUMINEERS® at your initial consultation.
Learn More about Porcelain Veneers
Porcelain veneers can conceal a range of cosmetic issues and create a more beautiful smile. To learn more about this treatment or schedule a consultation with one of our dentists, contact us today.