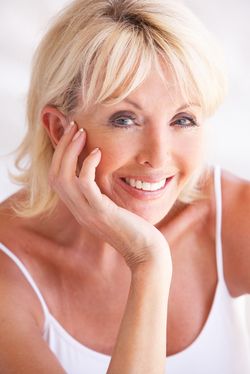 Dental implants offer the finest restorative option for patients with missing or severely damaged teeth. Dr. Paul E. Brown and Dr. Christopher S. Baran use this advanced restorative treatment to securely hold restorations like crowns, bridges, and dentures in place. Dental implants are titanium posts that are surgically placed, serving the function of a missing tooth's root. The biocompatible material fuses with the jawbone, creating a stable foundation for prosthetic teeth. Many patients are able to speak, eat, and smile more confidently with implant-supported restorations. Contact us today to learn more about dental implants or schedule a consultation at our Seaford or Wilmington location.
Who Is a Candidate?
You may be a good candidate for dental implants if you:
Have a fully developed jawbone (typically, you must be over 18)
Have a strong and dense enough jawbone to hold the implants in place (if you have inadequate jawbone density, you may need to undergo additional bone grafting procedures before dental implants can be placed)
Have healthy gums free from periodontal disease
Do not smoke
Do not suffer from hemophilia, uncontrolled diabetes, AIDS, or any other conditions that might suppress your immune system and prevent you from healing properly
Do not take steroids or any other medications that would interfere with your recovery
Do not suffer from bruxism (teeth grinding)
Are not pregnant
Do not drink alcohol to excess
Can commit to properly caring for your dental implants and restorations, including regular dental appointments for assessment
The Treatment Process
At Brown & Baran Family Dentistry, we offer guided implant dentistry. This involves the use of our advanced cone beam 3-D imaging system to create a detailed map of your mouth, which we then use as a model to create a surgical guide. On the day of your surgery, we will use this guide to accurately place the titanium post into your jawbone. We also provide full arch guided implant dentistry, using the same technique to place the implants needed to support one arch of a denture.

Drs. Baran and Brown also practice immediate-load implant dentistry, which means that a restoration is attached to your implant the same day as implant surgery. We use the Same Day Teeth® technique, which involves the strategic placement of four implants per arch to hold a denture in place. We may also secure your denture with a titanium milled bar, which will stretch across your gums to hold a removable overdenture in place.

Our trusted implant specialist lab will create your restoration, whether it is a single zirconia crown, a dental bridge, or denture. In general, we provide less than two weeks of turnaround time for implant-supported restorations. Once your permanent restoration is ready, we will attach it to your dental implant for excellent function and a natural appearance. Dental implants typically last a lifetime, securing your restorations for many years to come.
Restore Your Smile and Confidence
Dealing with missing teeth can be uncomfortable, but we can help you reclaim your smile in just two weeks with dental implants. To learn more about this procedure or schedule a consultation, contact us today.